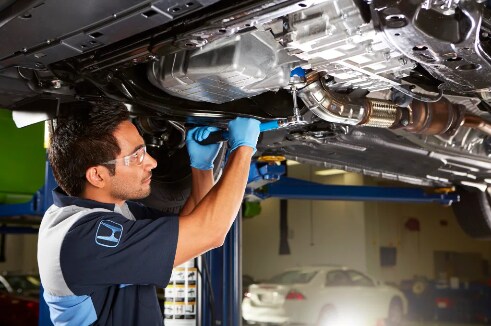 If your vehicle requires maintenance or repairs in the Pensacola, FL, region, our dedicated Honda Service Center is your top destination for timely and efficient work. Whether your Honda model needs an oil change or a substantial body repair, our factory-trained technicians are always up to the task and ready to help get you back on the road promptly. Use our website to schedule an appointment, or visit our dedicated Honda Service Center on Pensacola Boulevard for a closer look at our services!
Our Technicians Are Here to Help
With years of experience and specific training for all Honda vehicles, our service technicians are always prepared to handle any job your model requires. From battery replacements to tire rotations, maintenance is performed with unrivaled attention to detail at Pensacola Honda. When it comes to repairs, we go the extra mile to restore your Honda model to its original condition in the event of damages or dents.
Schedule an Appointment with Pensacola Honda Today!
Our team is eager to get you back on the road, so schedule an appointment with Pensacola Honda today to get started! If you have any questions or concerns for our service center staff, we are always available to help by phone or online live chat. Do not hesitate to contact us if you have any feedback, inquiries, or concerns. We look forward to working with you at Pensacola Honda!